What happened to January? Oh my, how the best intentions get brushed away with busy-ness. My whole family, including the kids, all got the flu / some sort of nasty cold  around Christmas and it has been a whirlwind ever since.  So, I apologize for having been absent these past few weeks or so, but sometimes life just takes a different turn for a while.
It has actually made me reflect a little on where I want my focus and priorities to be in 2015.  The time just passes me by otherwise, and being intentional in our lives is so important I think.  This is what I have come up with… my focus in 2015.  Not a New Year's Resolution, but more a way of thinking.
Less Rushing.  More Mindful Appreciation and Gratitude.
Less Clutter.  More Dancing.
Less Anxiety.  More Kindness.
Where will your focus be this year?  Please share!
So now I can't wait to talk to you about brunch.
What images does brunch conjure for you? Cozy snow days by a fire with hot chocolate, Eggs Benedict, and fresh avocado? Champagne and smoked trout with capers in an upscale log cabin?  I love these visions and scenarios, but when I think of brunch,  I can't help but think of New Year's Day. To me this is the ultimate brunch day, and it starts with coffee and a Bloody Mary before easing into a light menu. Brunch should be more than toast and berries, but definitely less substantial that a full lunch or dinner type meal.
I am eager to share this menu with you, and also to point out that brunch is a welcome addition to ANY weekend.
Brunch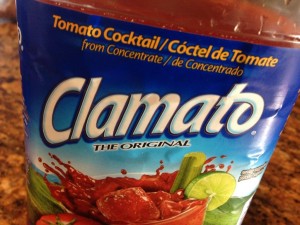 Bloody Mary
Clamato – a 64 ounce bottle
Vodka – 1-2 cups depending on your taste
Juice of 1 lemon
Juice of 1 Lime
2 teaspoons  Worcestershire sauce (more to taste)
1 tablespoon Horseradish (more to taste)  – must be horseradish and NOT horseradish sauce!
1 teaspoon Tabasco hot pepper sauce (more to taste)
2 teaspoons soy sauce (more to taste)
Salt and pepper to taste
Combine all ingredients except the vodka in a pitcher.  Taste.  Adjust seasonings to your preference. Makes 6 or so Bloody Mary's:  fill a large glass with ice, add the amount vodka you want (1 shot / serving is ~2 ounces) and then the Bloody Mary mixture.  Garnish with a stalk of celery or some spicy pickled green beans.