So… I think everyone who celebrates Christmas tends to have their own traditions… Whether they be traditional or kind of kooky. I am no exception. And I love, really love, hearing about others' traditions and family practices as well.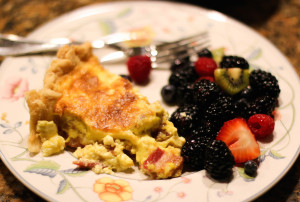 One that we have in our family in the area of food is all about breakfast on Christmas morning… Quiche Lorraine. I have vivid memories of watching my mom roll out the crust on Christmas Eve, and she always cooked the bacon the night before too. At bedtime on a night when my brother and I were buzzing with anticipation, it smelled like breakfast already. We would read a Christmas story called Stubby Pringle, which is a cowboy Christmas story about generosity of spirit and kindness of heart and making hard choices. It's a really nice story and at the end Santa sends Stubby a message about the choices he has made while sleigh bells tinkle in the air, "well done, pardner". When we were younger Mom and Dad would read it to us, and as we got older, we would take turns reading the pages aloud.
Early the next morning, mom would make the coffee, which smelled amazing on a cold snowy morning, even to a child who did not drink coffee yet, and put together and bake the quiche. As we took turns opening gifts in our pajamas while sitting by the tree, dad was normally, legs crossed in a big easy chair, taking bites of his piece of the pie. "Carol, you've broken the code on this quiche. There is no way anyone in the world is having a better breakfast than us right now. ANYONE!" (This part may have even been a gleeful shout) "you could serve this in the finest restaurant".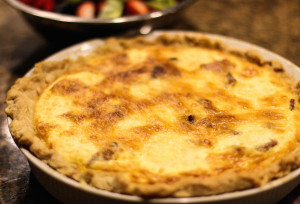 This version of Quiche Lorraine is loaded with bacon, Gruyere cheese, heavy cream and eggs. The custard is tender and wonderful, and the pie can be served warm or at room temperature or even cold. It will basically wait for you- making it as easily suited to Christmas morning as it is for brunch, lunch, supper or dinner. I happen to think it is a great meal for a baby or bridal shower, by the way… With a nice salad and some fruit you may even look like a genius. In the words of Santa to Stubby Pringle, "well done, pardner".
Quiche Lorraine
Crust:
2 cups flour
1/2 cup cold butter, cut into 8-10 small pieces
1/2 cup cold vegetable shortening
2 tsp. sugar
1/2 tsp. kosher salt
6-8 Tbsp. ice water
Combine flour, sugar, and salt in a bowl, and then cut in the butter and shortening until the mixture looks crumbly.  Do not incorporate until smooth or your pastry will be tough.  Add ice water and mix with a fork until the dough barely forms a ball.  Roll out on a floured surface, put into a greased 11-12 inch quiche pan (with straight sides), and pinch the edges with your fingers to make a scalloped look.  Prick the bottom with a fork, cover with a buttered piece of parchment or foil, and top with pie weights.  Bake at 400 degrees for 10 minutes.  Remove parchment and weights, prick with a fork again, and bake 3 more minutes.  (for more detailed instructions on making a pie crust in general, click here)
Filling:
10 slices thick bacon, cooked until crisp
2 cups shredded gruyere cheese
4 eggs yolks
4 whole eggs
1 1/2 cups heavy cream
1 1/2 cups milk
1 tsp. kosher salt
a pinch of black pepper
4 Tbsp. butter
Scatter the bacon and the cheese evenly on the bottom of the baked crust.  Whisk the eggs, yolks, milk, cream, salt and pepper well.  Pour into the crust.  Dot the top of the unbaked pie with the butter.  Bake at 375 degrees until the top is golden in parts and the custard is just set.  Serve warm, at room temperature or cold… but do let it rest at least 20 minutes after coming out of the oven, no matter how yummy it looks and smells!