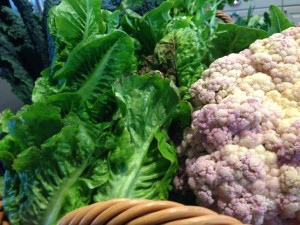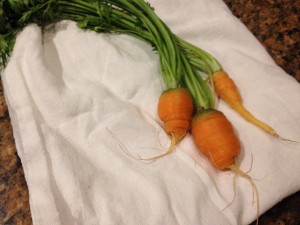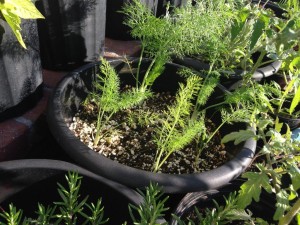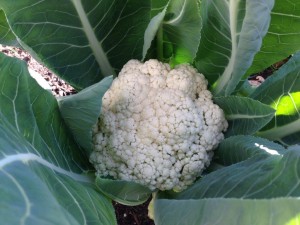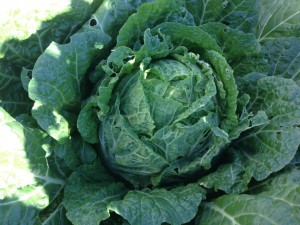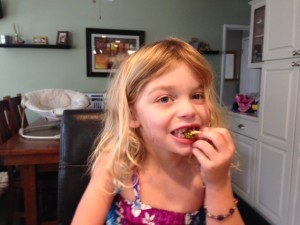 Unlikely garden
Do you have that fantasy where you are perfectly coiffed, stress free, and cooking some delightful meal (there is no mess in my version) all calm and cool? Then, as you sip your espresso (or wine!), and toss your head back, laughing, at the glorious-ness of the day, you glide out to your garden and snip a few fresh things to make your meal extra spectacular. Snip snip snip. Somewhere, there is sunshine streaming through the clouds.
This fantasy requires a garden of sorts. Maybe an unlikely garden or an nontraditional one. Kitchen garden. Potted garden. Herb and Vegetable garden. Landscape produce. Mini orchard. What's your fancy?  There are those of us that have become somewhat addicted to growing or acquiring special edibles. It isn't that easy to find purple cauliflower in the grocery, for example, but I happen to have some growing outside my front door right now (these are the seeds I used, and the resulting vegetables are wonderful). My flower bed by the front door is planted with flowers… But not what you might think.  They are white, green and purple cauliflower(s). Flowering herbs (borage and rosemary) make the border. Potted blueberries and strawberries flank the front door.
I must sheepishly admit I have a sort of addiction to this gardening thing, and especially from seed.  I get to choose from a much larger variety when I buy seeds vs. plants. With thoughtful planning, my daughters and I can watch them grow. I can expand my growing space when I use pots. I also doubled my number of tomato plants when I started putting them intermixed with flowers and lettuces in the front yard, as part of my 'landscaping'… This would be the landscape produce (as in the produce you find in the produce section of the grocery store) I mentioned earlier.
The trouble with starting seeds for me is that I start more than I need, you know, just in case. I can't bear to throw any little plants away. Presto, I have over 30 heirloom tomato plant varieties at home now (more than 100 plants) with flowers and some with small fruit already forming.  By the way, if you live in or near Los Angeles and want to talk about plans for your own garden, feel free to send me a note using the email address on the contact page.
The truth is, I can't wait for tomato season to hit us in full swing.  Garden tomatoes are my favorite. Escarole is another one that I really love and I have 3 varieties tucked in between lettuces, kale, arugula and celery in the back and the front.  In fact, I cooked a very delicious escarole stuffed pizza from a fellow blogger recently (le riccette di Matilda) that featured escarole (which is a leafy green enjoyed raw in salads or cooked lots of ways), cheeses, nuts, capers and some chopped fresh pear (I admit the pear was my addition, since I did not have any golden raisins on hand which is what the recipe actually called for). I also added some fresh kale and arugula. I will happily share the link here for this lovely recipe, but must warn you it is in not in English! It is in Italian.
There are lots of unlikely gardens (and gardeners) out there.  Are you one? Are you about to be one? Please enjoy some photos, from my friends and family's gardens, as well as my own. A favorite winter vegetable is romanesco, which is a lovely little cross between broccoli and cauliflower.  It is so good!!!  See my my favorite way to enjoy it below. It is a great side for dinner, but my family snacks on it like finger food as a appetizer and it rarely makes it to the table.
Romanesco
1 head Romanesco
olive oil, salt and pepper to taste
Heat oven to 500 degrees.  Core romanesco and cut or break into bite sized flowers.  Isn't it pretty?  Put in greased cookie sheet and drizzle with a little olive oil (2-3 tablespoons), salt and pepper. Roast until tender and the edges are dark brown ans crispy – which makes it very sweet.
This post contains affiliate links, which means if you use my link to make a purchase I'll make a few cents to use towards maintaining this blog and buying seeds.  Thank you!