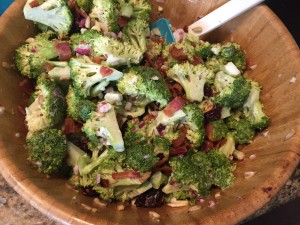 We are coming into broccoli season, which is a great time to consider throwing together a broccoli salad. I read somewhere years ago that if you replaced all the breads and carbs you eat for breakfast each morning with raw cruciferous vegetables (broccoli, cauliflower, and the like) that it would change your life. Hmmm… That's not going to happen. Broccoli instead of pancakes?… Aahhhhh, no.
But I will say that prepared well, these cruciferous vegetables are some very delicious items.
I love broccoli prepared lots of ways, but today I am going to talk about a recipe that always reminds me of my friend Jill. She requested it for her bridal shower, which I hosted 15 years ago, and to this day I fondly think of her whenever I make it. It's a throwback. From the 60's I think. And it's so good. So good.
I've modified slightly the recipe I got from her mother Gail, to make it a bit lighter and a little less sweet. Broccoli salad. Perfect for this time of year!
Broccoli Salad
2 heads of broccoli, raw, cut into bite sized florets
1/3 pound of bacon, cooked until crispy, drained and chopped
1/3 cup dried cranberries
1/4 cup sunflower seeds
1/4 cup sliced almonds
1/4 cup minced red onion
Dressing
3/4 cup mayonnaise
1 tablespoon sugar
3 tablespoons cider vinegar (or you could use white balsamic, white wine, or tarragon vinegar)
1 tablespoon Dijon mustard
1 clove garlic, minced
1/4 teaspoon cayenne pepper
Salt and pepper to taste
Toss all salad ingredients together. Whisk dressing ingredients together. Mix into salad. Serve within an hour or 2, but store in the fridge because of the mayonnaise.