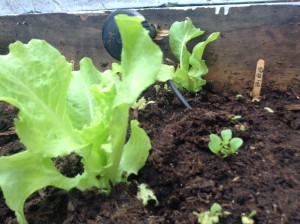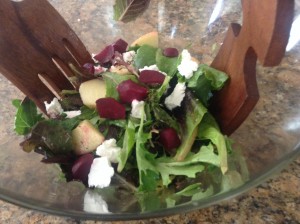 Growing different types of lettuce and arugula is kind of fun.  Of course you need to get the season just right for the climate you live in, and in my garden, I need to acknowledge sooner when a particular plant has served its time and purpose and needs to be replaced or removed … I always try to stretch the season of a lettuce plant a bit too long and end up with leggy bitter plants. I suppose the bonus to that is if you wait a little longer beyond that point, your lettuce will actually 'go to seed' … Meaning you can collect, dry and replant the seeds next season or simply leave the plants where they are in the ground and eventually you may get some new little germinated sprouts in the same place.  By the way, lettuce is actually pretty easy to grow, and its lifespan is generally shorter than the season, so to enjoy your very own harvested lettuce all spring, summer and fall, plant seeds every month or so (this is called 'succession planting').
I actually really hated salad when I was growing up. I hated it so much that when I turned about 20 I refused to eat salad anymore because I simply didn't want to. That lasted about 10 years.  Salads on restaurant menus and in cooking shows just kept getting more and more awesome and interesting in the 90's, didn't they?  Different lettuces started showing up, including mild soft colorful ones, bitter greens, curly mesclun mixes and peppery baby arugula. New additions like roasted pumpkin seeds, striped candy cane beets (also called Chiogga Beets) and orange supremes (these are orange segments sliced from a fresh orange, removing the membranes) made salad a whole new experience, not to mention the salad dressings that were so much more that a bottled ranch or thousand island, or those little packets of 'Italian' that you shook in a jar with oil and vinegar.
So I jumped back in.  I remember when it happened too.  I was out at a fancy restaurant, eating at the bar with a girlfriend (you TOTALLY know who you are!), and there was a salad on the menu that looked amazing and I ordered it. My friend didn't know what was going on with me; she had never seen me eat a salad of any kind. But that was the day that changed my view and I have been sampling and creating interesting salad combinations and dressings ever since.  I am going to share ONE salad dressing recipe below, and endless ways to vary it – make it your own!  All the variations we have done at home have been wonderful and different and delicious.  Below are a few of my favorite salads in general as well.
When I see an 'empty' Dijon mustard jar, it is a screaming invitation to make this dressing… just throw everything in there, along with the bits of leftover mustard on the side of the jar, and voila, amazing dressing for the fridge that will last for multiple salads!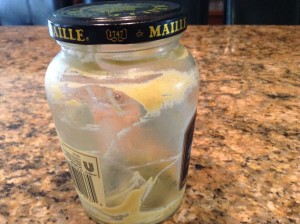 Tangy Mustard Vinaigrette
1 Tablespoon Herbes de Provence (other options: Penzey's salad herb mixes or any herb mixes, fines herbes, Italian seasoning, any mixture of 2 of these options, some dried parsley, dill, basil, sage, rosemary and thyme, or anything else that sounds appealing)
1 garlic clove, peeled and crushed (optional) (other options: you can also use1 tsp. dried garlic)
1 Tablespoon minced shallots (other options: you can also use1 tsp. dried minced onion or shallot)
1 Tablespoon freshly squeezed lemon juice (other options: lime juice or 3 Tablespoons orange juice makes a very lovely dressing)
1 Tablespoon Dijon mustard (other options: you can double this amount, or replace with some interesting mustards like apricot mustard, or other spicy of fruity options from the store or your pantry)
1 Tablespoon honey (other options: you can use agave syrup or white sugar or brown sugar or no sweetener at all. you could also use a spoonful of fig jam, onion jam, or any kind of jelly, jam or marmalade you like)
3 Tablespoons white wine vinegar (other options, ALL AWESOME:  vinegars – sherry, champagne, Banyals, red wine, cider, rice wine,  pear, raspberry, reisling, and anything else that looks appealing.  Stay away from plain white vinegar)
Salt and Pepper
¾ cup extra virgin Olive Oil
Put everything except the oil in a clean jar (I use an old mustard or olive jar) and shake well.  Add oil and shake again.  Taste for seasoning and adjust to your preference.
Some salad combination favorites:
Mixed greens with fresh fennel,  arugula,  apples,  cucumbers,  goat cheese, and roasted beets
Romaine with blue cheese crumbles, dried cranberries, and red onion
Bibb / butter lettuce with avocado, orange segments, red onion and Kalamata olives
Mixed greens with rinsed and drained canned chickpeas, corn, onion, cucumber, tomatoes and black olives
Arugula with fresh figs, cucumber and goat cheese
Arugula with shavings of parmigiano cheese where the dressing is simply freshly squeezed lemon juice, olive oil, salt and pepper (particularly good with a chicken or veal cutlet and some cherry tomatoes)