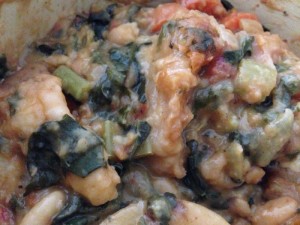 It's officially winter. Soup weather, no matter where you live. Cozying up with a warm crock of delicious soup on a cold winter day makes it feel like its a nice thing that it is so bitter and cold outside (I am speaking to you who are gazing at the snow and ice outside your window right now, and thinking how nice it would be on a balmy beach). There is almost nothing I enjoy more on a cold winter day than a bowl of Ribollita, which is an Italian (Tuscan, actually) vegetable stew that is characterized by its use of kale (it also happens to be vegan). The vegetables are rich and flavorful while being soft, but not mushy. This comes from the long slow cooking process (it's done over 2 days, making it perfect for a time when you are socked in). Ribollita means re-boiled n Italian, which refers to the twice-cooked nature of the stew. It also includes creamy cannellini beans and a little bread for depth and crunch, and it is finished with a drizzle of olive oil. It actually might be the best vehicle for consuming olive oil that I have found. I have been known to keep re-drizzling as I munch my way through my bowl. You won't believe how good your kitchen smells when you make it! If you grow your own kale (which is pretty easy), you may or may not know that a cold snap actually makes the leaves sweeter and more delicious. The same is true for carrots and cabbage, by the way, which also make an appearance in this dish. The kale in the markets now is gorgeous, and I have a preference for Italian kale, which is sweeter and more tender and has flatter, less curly leaves. Some other names for this wonderful item are Cavolo Nero, lacinato kale and dinosaur kale.
Ribollita
Beans:
1 lb. dried cannellini beans (these are medium sized dried white beans)
8 cups water
2 tbsp extra virgin olive oil
3 cloves peeled crushed garlic
6-8 fresh sage leaves
Salt and pepper
Soup / stew:
1/2 cup extra virgin olive oil, divided, plus more for serving
1 large yellow onion, finely chopped
5 carrots, peeled and thickly sliced
2 ribs celery, trimmed and thickly sliced
2 Idaho potatoes, peeled and thickly sliced
1 large bunch of Swiss chard, trimmed and coarsest chopped
1 large bunch of italian kale (use curly kale if you can't find italian kale), trimmed and coarsely chopped
1/2 small Savoy cabbage, trimmed and coarsely chopped (if necessary, you can use 1/2 of a Napa cabbage in place of the Savoy cabbage)
1 14 ounce can diced tomatoes
2 thick slices day old country white bread ( it should be a bit dry and stale)
Salt and pepper to taste
1. Cook the beans: put the beans, water, garlic, sage and olive oil into your slow cooker and cook on low for 8 hours or until tender. Season to taste with salt and pepper. Reserve 2 cups of the cooked beans and purée the remaining beans and cooking liquid. Set aside. (If you don't have a slow cooker, see alternate method for cooking beans below*)
2. Heat 1/4 cup of olive oil in a large Dutch oven over medium low heat. Add onion and cook until soft (15-20 minutes). Then add carrots, celery, potato, Swiss chard, kale, and cabbage and stir. Add tomatoes, stir, and cover.  Cook until all the greens are wilted, 20-30 minutes.
3. Add the puréed bean liquid and simmer covered for about an hour. Add bread and reserved beans, stir gently, and cook on low, covered for another 15 minutes. Season to taste with salt and pepper, and then refrigerate, covered, overnight.
4. THE NEXT DAY: preheat oven to 375. cook soup in an oven proof casserole or Dutch oven, uncovered, for 40 minutes, stirring occasionally.  Then cook another 30 minutes without stirring. Serve and pass with olive oil on the side.
* alternate method for cooking the beans:
Soak beans in water for 4 to 10 hours (you could do this overnight). Drain and cook in 11 cups of water, Sage, garlic, and olive oil. Bring a boil and then simmer on low for simmering for 2 to 3 hours until tender. Seasoned salt and pepper and continue on with the recipe above.