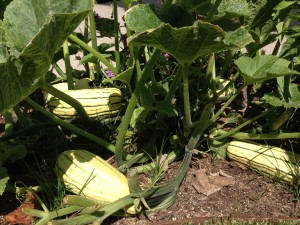 This page is dedicated to information that I have come across over the years… interesting little tidbits that might be helpful!  As I think of more or learn more, I will add to my list.
Gardening:
Winter Squash – FRESHER NOT BETTER… little known fact: you must store winter squash  for some time (weeks or months), NOT in the fridge, in order for the flesh to sweeten.  Literally fresher is NOT better… you don't want to use them the day you pick them!
Strawberry Plants – Don't wait till Spring!:  It's best to transplant your strawberry plants in Summer or Fall, so that they can become well established over the winter.  That way, you have a much better chance of a nice prolific crop of strawberries in the following Spring / Summer.
Seeds – THEY LAST LONGER THAN A YEAR: You know those little packets of seeds you buy to plant each season?  I get great yields from the same packet for about 3 years (or more).  You do not need to buy new seeds of the same type each year, in my opinion, and because germination rates are generally good for at least 3 years, planting multiples and then thinning them might also be a waste.  I typically plant 1, maybe 2 seeds in each pod / section of the garden and have great results.  So save some money and hold onto your seeds!
Cooking:
Vanilla – YOU MUST WAIT: Typically recipes call for adding vanilla near the end of cooking time, when possible (like when making custard).  There is a reason… vanilla is actually very high in alcohol (it's literally vanilla beans soaked in bourbon or vodka and then strained), so if you add it and then cook something a lot, the alcohol and therefore the flavor of the vanilla, simply cooks away.  It will still have a vanilla flavor, but gosh, vanilla is expensive, so why waste it?
Tomatoes – TO CHILL OR NOT TO CHILL: Did you ever put a gorgeous garden tomato in your refrigerator and then discover when you sliced into it in a day or two that its texture was pithy and mealy?  How disappointing!! The flesh of tomatoes is made up of a bunch of cells that break when chilled, so if you put a big tomato in the fridge, the texture changes… so don't do it.  There is an exception, however… very small tomatoes, like grape tomatoes or small cherry tomatoes, don't seem to be affected the same way, meaning you CAN store them in the fridge.  ALSO, scientific documents indicate that the cooler the tomato is WHEN YOU PICK it will give it more tolerance to be stored at cooler temperatures.  Interesting, right?
Canning made easier – KEEP THE JARS COZY WARM:  I came across a little tidbit that has made canning jams, jellies, mustard, preserves and tomatoes (really anything that you can) so much more reliable and I had to share.  Another food blogger mentioned that when she makes tomato sauce she lines a laundry basket with towels and then puts her canned sauce into the basket, covers it with a blanket and locates it somewhere quiet for 2 days.  But she cans like 100 pounds of tomatoes at a time… WOW!  If you can this much at a time, this sounds great.  I don't do that.  I do about 6-8 jars at a time, which fit nicely on my kitchen counter, right in the corner, thank you very much.  BUT the idea of covering them to keep them warm, seemed like a good little nugget.  SO I started covering my canned items with about 2-3 layers of dish towels (they also sit on a dish towel, that's not new) when I remove them from the water bath and they cool VERY slowly. I check on them after about 6-12 hours.  Voila! – EVERY batch of canned goods I made since I started doing this has sealed 100%.  I cannot guarantee the same results for you, but I was eager to tell you about it.
Homesteading: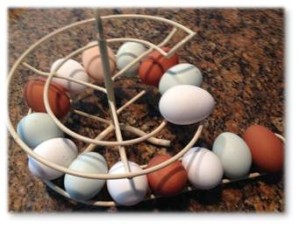 Fresh Eggs – THEY DON'T GO IN THE REFRIGERATOR:  If you happen to be the lucky owner of chickens that you keep for the purpose of providing you and your family fresh eggs, you probably already know, but some may not.  Those eggs that you get fresh from your (or someone else's) chickens, provided you know they were laid recently, can be stored on your counter top for about 17 days, give or take.  BUT you cannot WASH them until you are ready to eat them.  If you wash them right away, they must go directly into the refrigerator.