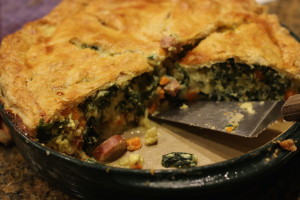 Do you know about kale? It's one of those wonder foods apparently.  How lucky that is since I find it so darn delicious when prepared well. Kale is deep green and rich in iron and other vitamins. I have a bunch of it growing in little tucked away parts of the garden at my house. It grows year-round lots of places, and not only can it survive a frost, the cold actually sweetens the flavor somewhat.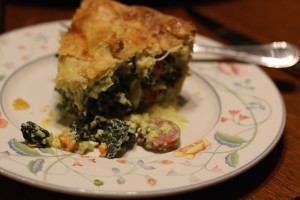 Kale is a darling of those focused on veggie heavy diets because it is so good for you and delicious. It's in the cabbage family but is a green more similar to Swiss chard, in my opinion, and yet it has a flavor all its own.
One great way to use kale is in a kale pie, which is like quiche really. It's loaded with eggs, cheeses, sausage, kale, sweet potato and shallots, all encased in a buttery flaky pie crust.  My friend Mike eats paleo, but will take a break from it anytime I make one of these.  So hearty and delicious. Good warm or cold, and works for any ol' darn meal of the day. YUM.
Kale pie
I make this pie in a casserole pan that is round, 13 inches across and 3 inches deep. It's much bigger than a pie plate! This would make 2 large pies and you still may have some leftover.
Crust
3 cups flour
1/2 cup butter, cold
1 cup shortening, cold
1 tbsp sugar
1/2 tsp salt
10-14 tbsp ice water
Filling
2 lb kale, or a mix of kale, Swiss chard, beet greens, and / or escarole.  At least half of the mix should be kale.  Clean, blanch (cook for 4 minutes in salted boiling water), drain, dry, then chop.
1 tbsp olive oil
2 tbsp butter
1 shallot, minced
1 clove minced garlic
1 1/2 cups shredded cheese: mozzarella or a mix of mozzarella and parmesan or pecorino
1 cup cubed fresh mozzarella
1 cup ricotta cheese, drained
1 lb sausages, fully cooked and sliced
4 whole eggs plus 1 egg yolk
1/2 pound sweet potatoes, peeled and chopped
1/2 cup heavy cream
Salt and pepper to taste
An additional egg, to top the pie.
Make the crust (want a little more guidance on making pie crust, look here):
Combine flour, butter, shortening, sugar and salt in a bowl using 2 butter knives or a pastry blender until the butter and shortening are the size of small peas. Add ice water and form into a ball.  If it's too dry to form a ball, dribble in more ice water, 1 tablespoon at a time until it does.  Knead the ball 4-5 times and then cover and refrigerate for about 15 minutes.  When ready, remove from fridge, divide in 2, and roll each into a circle large enough to fit your pan with about an inch or inch and half hanging over the side.  Grease the pan and put the bottom crust in, very gently placing it as you don't stretch the dough.
Make the filling:
Melt the oil and butter at medium heat in a saute pan large enough to hold the greens (they will cook down a bit).  Saute the shallot and garlic until soft.  Add the greens and cook until they are soft and the liquid mostly evaporates.
Separately, Chop the sausage and sweet potatoes and spread out on a cookie sheet.  Drizzle with a tablespoon of olive oil and shake the pan to coat the items.  Season with a teaspoon of salt.  Bake at 350 for 20 minutes or until the sweet potatoes have softened somewhat.
Meanwhile,  combine the eggs, cheeses, cream, salt and pepper in a large bowl.  Add in sausage mixture, greens mixture, and mix gently until combined.
Bring it all,together :
Place the filling into the bottom crust of the pie.  Lay the top crust over every thing and cut vents into it (I usually do four 3-inch cuts with a sharp knife.  Whisk an egg and a teaspoon of water and brush the top crust.  Bake  at 350 degrees for an hour.  I like to put pan on a cookie sheet just in case any juices drip out during cooking so the don't smoke in the oven.