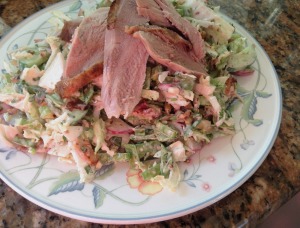 Did anyone see that movie LA Story with Steve Martin in the in 80's? It was so entertaining, and had all these jokes in it that are not as funny today because so many of the jokes actually came true.  The point is, there is this really funny scene where someone is asking what type of restaurant it is where a group of folks is having lunch, and the group replies, in unison, "California Cuisine". It's funny because they respond together but also because it is implied that the type of food is pretty varied.
So that's what I would call this next dish I want to share with you… California cuisine.  It's a little bit of this and a little bit of that.  Are you one of those people who like a nice cold crisp salad with something hot, like chicken or beef, on top? I am… especially in the summer. So that's what this next thing is!  Imagine a California-Asian slaw with pepitas and bacon and nuts and snow peas, all fresh and crisp, topped with a gorgeous fresh avocado and some succulent roasted Chinese duck.  How amazing does that sound!?  And it tastes even better.
I borrowed ideas from a lot of different places and added quite a few of my own to pull this recipe together.  There are a lot of cookbooks that recommend you steam a duck to render the fat before roasting it to get the crispy skin.  This is a messy and cumbersome process.  I've done it many times on the stovetop and frankly it is something that discourages me from making duck quite frequently because it is such a pain in the ass.  I don't know if she was the first one to do this but in Gwyneth Paltrow's cookbook she recommends steaming it in the oven and I think it's brilliant… A lot less mess!  Also I must thank Sunset Magazine for the kernel of the idea for the slaw… They have a Napa cabbage version from the 70s or 80s from which this version was adapted.
So please enjoy my latest take on "California cuisine", and I hope you make this as a lovely summer (or Fall) salad this season to boot.
Crispy Chinese Duck with California Slaw
Serve six
I recommend you make this in three parts: the duck part, the slaw part, and the dressing part and then assemble everything.
Crispy Chinese Roasted Duck
One large duck
Salt and pepper
One small yellow onion, quartered
2 teaspoons Chinese 5-spice powder
2 tablespoons brown sugar
Trim extra skin neck and back from the duck and remove the neck and any giblets inside. Pierce the skin with tip of a sharp knife (like a small paring knife) 50 to 60 times without piercing the meet. Generously salt and pepper the bird inside and out. Stuff with quartered onion. Sprinkle breast and back with five spice powder.
Place duck on roasting rack inside a roasting pan and pour boiling water into the pan, half inch deep, and add the brown sugar to the water.
Cover entire pan with the duck in it with aluminum foil and seal tightly on the edges. Bake at 350° for one hour on each side for a total of 2 hours.
Cool the duck and then put on a plate cover with foil and refrigerate overnight. Put the broth into a sauce pan (or leave it in the roasting pan) and simmer about half an hour until it is reduced by half. Let it cool and cover it and refrigerate overnight as well.
Finish the duck (the next day) by cooking at 500° for 30 to 40 minutes until the skin crispy and brown. Let it rest covered foil for about 10 minutes before cutting and carve into pieces. This will preserve the juiciness of the meat. Remove the fat from the top of the cold broth and discard it (this is a piece of cake – super easy – when the broth it cold).  Warm the defatted broth, and use it to moisten the meat.
Reserve meat to top the California Slaw.
California Slaw
1 pound Napa cabbage, shredded
10 ounces snow peas thinly sliced
1 1/2 cups radishes, thinly sliced
1 1/2 cups scallions, thinly sliced
1 cup cilantro, chopped
1 cup small cucumbers, sliced
1/3 pound bacon, cooked until crispy and then chopped or crumbled
1 cup almonds, toasted and chopped
1 cup toasted salted pumpkin seeds (pepitas)
1 avocado, sliced.
Combine all ingredients except avocados and toss with dressing (see below). Place avocados and warm crispy duck on top.
Dressing
1 cup mayonnaise
3 tbsp sugar
3 tbsp rice vinegar
1 tbsp soy sauce
1 minced garlic clove
1 tbsp minced fresh ginger
1/2 tsp sesame oil
1/4 tsp cayenne pepper (up to 1/2 tsp if want a little more spice)
Shake all ingredients in a jar.