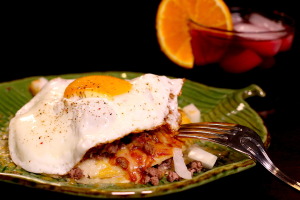 It's October. The air is cooling and Daylight Savings Time and Halloween are upon us. October is a month of harvest. I'm not just talking about our burgeoning and waning vegetable gardens, I'm also talking about things like wine grapes, truffles and an item close to my heart and roots: Hatch Chili Peppers from Hatch, New Mexico.
It turns out my dad is from Hatch. In the 40's when he was born, it was a dirt-road one-horse kind of town. For those who may not know, Hatch is the chili pepper capital OF THE WORLD. This town has had a bit of a burgeoning of its own, and especially each year around this time. It's a destination!
There are large events there, like festivals, dedicated to the modest chili, and October is the time when the chilies are roasted or dried and ground and sold to many a happy customer worldwide. Hatch red chili powder is no joke in my family, nor is the family enchilada sauce recipe made from it or the enchilada-making approach that has been in our family for generations.
Dad got the enchilada sauce recipe from his Aunt Opal, although my mom made it too. (Side note: don't you just love some of these old fashioned names? Vesta was my grandmother and she and her sister Opal had sisters named Ernestine, Irene and Cora… awesome)
Anyway, we love our rich red spicy, smooth, flavorful enchilada sauce and when you make a batch (which is about 5 pints of sauce), you can store what you don't use right away in the freezer or you can pressure can it, if you have a pressure canner ( I think I could write a whole post on how much I love my pressure canner – it's this one). The deep and pure flavor of this sauce is something amazing, and I hope you try it. It's outstanding on the family recipe (I'll walk you through it below) for enchiladas and glorious on fried eggs (read more about eggs here) for breakfast.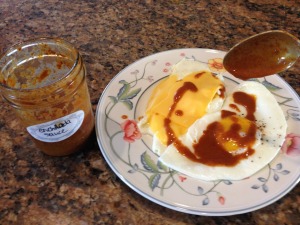 Enchilada Sauce
Makes about 10 half-pints, which should be more than enough for anyone without ancestral ties to it
1 cup flour
1 cup bacon fat (or lard or shortening if you don't happen to have a jar of bacon fat handy in your refrigerator or if you don't eat bacon)
1 cup Hatch, NM red chili powder (you can choose the heat when you purchase –mild, medium, medium hot, hot, extra hot – you get the idea)
8 cups chicken stock
In a large Dutch oven at medium heat, melt the bacon fat and add the flour, whisking often, until the roux (flour and far together on the stove is called a roux – it's a thickener) has thinned out a little and turned a warm brown color. Whisk in the chili powder until smooth. Do NOT bend over the pot and breath in at this point: this is the equivalent if getting a spritz of pepper spray in your lungs (eek). Whisk in 8 cups of chicken stock and simmer on low, stirring often, until it thickens. Taste it for seasoning and adjust as needed.
Store in the refrigerator for about a week, in the freezer for 6 months or canned for a year. If canning it, do it in a pressure canner (45 minutes at 10 pounds for half pints if you live at sea level… if you live at a higher altitude, please consult the free app from Mother Earth News called HOW TO CAN for canning directions for chicken stock at your altitude).
Enchiladas
Serves 4
8 Corn tortillas
1 pound ground beef
1 clove garlic, put through a garlic press
salt
about 2 cups of shredded cheddar or Mexican blend cheese
1 small yellow onion, chopped
1 cup of enchilada sauce (1 half-pint jar)
4 eggs at room temperature
2-4 Tbsp. canola, vegetable or grapeseed oil
Preheat the oven to 250 degrees.
In a saucepan, cook the ground beef with the garlic and salt to taste, breaking it up often with a spoon or spatula, until no longer pink. Remove from heat and set aside.
In a small skillet, warm 2 tsp oil until hot. Heat each corn tortilla about 30 seconds on each side. Let them sit on the side on paper towels until ready to assemble the enchiladas.
Assemble the enchiladas:
Place a tortilla on an oven proof plate
Top with about ¼ cup of beef, a sprinkling of raw onion, chees and enchilada sauce.
Top with another tortilla and repeat the toppings.
Put the plate in the oven so the cheese can melt.
Work on the next plate.
When all plates are in the oven, fry the eggs sunny side up, top with salt and pepper, and place an egg on top of each enchilada. Serve instantly. I have a hard time not doing the involuntary eye roll and satisfied sigh – thing when I take my first egg-yolk soaked bite.
NOTE: These are instructions for a standard 'double enchilada'. Everyone in my family has their own 'way' they like these – so feel free to modify to your taste. We have folks who eat triples or quads with double sauce, single with light sauce and 2 eggs, double with extra onion and no egg, etc, etc.