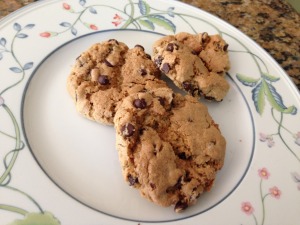 No, I have not taken some sort of strange hallucinogenic turn down a windy path.  I have not ingested any acid, or other illegal drug.  I have not had such a drastic hormone swing post-childbirth (my youngest daughter is now 1 WHOLE MONTH old) that I have forgotten how awesome bread and pasta are.  It's really all about the kids (isn't it always?)  Let me explain…
There are vegan or restricted diet recipes that just happen to be that way without really trying (Ribollita just happens to be vegan, as are amazing lentil soup and
quinoa salad
) and then there are recipes that have been modified from their original state to become vegan (or insert other restriction, like soy or gluten free) by making substitutions. Things like pasta made from corn or rice to emulate egg pasta, or gluten free bread, or seitan cutlets parmigiano with almond cheese are examples of the latter.
I put these types of foods in the same category as "near-beer", decaf coffee and lactose free milk. I generally turn my nose up at them, and justify these sentiments with righteous statements about food tasting better as the original, or 'why bother if you are going to ruin it' or something along those lines. The recipe I will share with you in this post is 100% in this category of food upon which I look down. That's right… Wheat, dairy, nut, soy and egg free Salted Chocolate Chip Cookies actually sound horrendous don't they?  But here's the thing… for me, I actually can tell you that I would put them up against ANY other chocolate chip cookie and still choose them.  That may not be true for you, but please don't trust me on this.. just try them.  I felt many of my readers roll their eyes and take away  some of the respect they had for me as they were reading this, so if that is you, please try them just to justify that I am not speaking crazy about these cookies!
These are salted chocolate chip cookies that are soy free, nut free, wheat free and vegan.  This may bring up a few questions for those who know me or have been following me long enough to know my passion for foods in their natural, simple or original state.
1. WHY would I even entertain the idea of coming up with a recipe of this kind?  My infant daughter has seemingly been experiencing allergies to food (which she gets through my breast-milk), and standard practice to identify the culprit is to eliminate all of the usual suspects for 3 weeks and then re-introduce them one-by-one until you find the offender(s).  Like I said, it's all about the kids.  So that, paired with my love of basically everything on my do-not-eat list has me craving things I can't have and VERY motivated to come up with other options that taste good.
2. WHAT the heck is in them?  Seems like it can't be anything good, right?  Well, they have some standard stuff in them, like baking soda and salt and sugar, but oat flour makes a nice substitute for regular (wheat-based) flour in this instance, and flaxseed meal and liquids when whisked together emulate some egg properties.  The flaxseeds also contribute an appealing chewiness to the cookies. Finally, there are some quite yummy dairy, nut, soy and egg free chocolate chips at the supermarket.
3. HOW can they possibly taste good?  Well, part of the answer is I don't really know, but the finished product surprised the heck out of me (and many friends and family… hey I needed validation because I was so surprised when they tasted good) with its deliciousness. The addition of potato chips adds an appealing crispiness and saltiness that has me wanting more.  But like I said, don't take my word for it, please give them a try, and you might be surprised!
 Enjoy!
Salted Chocolate Chip Cookies
2 cups oat flour (make sure it is very loosely packed, or sifted.. otherwise you will have too much flour and these will be dry)
1/2 teaspoon baking soda
1/4 teaspoon kosher salt
1 Tbsp flaxseed meal (ground flaxseeds)
1/4 cup vanilla coconut milk
1/3 cup canola oil
1/2 cup brown sugar
1/4 cup sugar
1 tsp. vanilla
3/4 cup mini dairy, nut, soy and egg free chocolate chips
1 cup kettle potato chips, crushed (should measure about 1/3 cup after being crunched up)
Heat oven to 375.
In one bowl, mix oat flour, baking soda and salt.
In a separate bowl, whisk flaxseed meal and vanilla coconut milk.  Then whisk in canola oil, sugars and vanilla until emulsified (the oil doesn't separate and it is a little opaque).  This should only take about 20 seconds if you are using a silicone whisk.
Combine wet and dry ingredients, and then gently mix in chocolate chips and potato chips.
Drop batter by tablespoons unto un-greased (foil-lined, for less mess) cookie sheets  and bake for 10-15 minutes, until golden.
Cool for 5 minutes and then remove to a rack to cool the rest of the way.