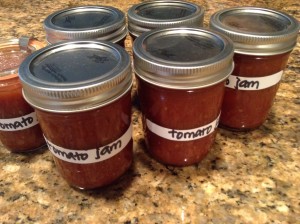 Jam is NOT the first thing that comes to mind when I think of fresh tomatoes, and I suspect we may be similar on this point.  Salads?  Sandwiches?  Summer gardening and lazy afternoons?  All of those things, yes, but jam, definitely not.
So upon discovering tomato jam my eyes were opened to tomatoes in a whole new way…. Deep in flavor like a sun dried tomato, yet sweet, earthy with spices, and piquant all at the same time, I think it is a revelation.  It's familiar yet totally new, and it can transform toast, bacon, and a fried egg into something completely unexpected.
I also find it wonderful with goat cheese and a baguette, or mixed into a vinaigrette salad dressing to make it something extra special and unique for your salad.
Tangy, deep red and wonderful.
Tomato Jam
Makes about 5-6 cups of jam (about 5-6 half-pint jars)
4 pounds ripe tomatoes (Roma, Plum, Cherry or Grape tomatoes), coarsely chopped
2 cups sugar
¼ cup freshly squeezed lime juice (if you are fresh out of limes, rice wine vinegar is a lovely substitute)
2 tablespoons fresh grated or minced ginger (see note on ginger below)
2 teaspoons ground cumin
½ teaspoon ground cinnamon
½ teaspoon ground coriander
1/8 teaspoon ground cloves
1 Tablespoon kosher salt
1 jalapeño, stemmed, seeded and minced
½ teaspoon crushed red pepper flakes
Combine all ingredients in a large saucepan or Dutch oven and bring to a boil.  Reduce heat to a low simmer, and cook for 2-3 hours, stirring occasionally, until it has a jam like consistency. Partially blend with an immersion blender, or remove and puree about half of the jam in a blender and then return to the pot.  Taste and adjust seasoning, then process jars in a hot water bath for 12 minutes.  Alternately, you can cool and refrigerate until ready to use, and it should keep at least 2 weeks in the refrigerator or you can freeze it if you like.
GINGER NOTE:  Ginger is actually a very important ingredient in this jam, and I definitely notice a difference using fresh vs. dried ginger.  Fresh ginger tastes better.  Having said that, sometimes you just don't have any ginger in the fridge… if that is the case, you have options (other than having to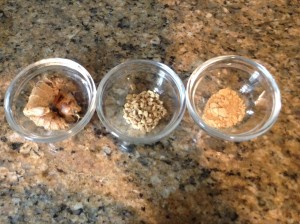 trudge to the market).  There is a company that makes pre-minced ginger in tubes and sells it in the produce section of the grocery store.  It says to refrigerate and I actually keep it in my freezer (for a year or more, along with lemongrass and basil and other herbs in tubes that are important to have fresh sometimes)… this works well in ginger emergencies or when wither you can't make it to the store or, God forbid, the market is out of ginger (this actually happened to me).  You could also substitute half the amount of minced dried or ground ginger in a pinch, and it will work fine.