I think tomatoes from a home garden in late summer are biblically good. Like crazy sweet juicy amazing good. They have an intensity and sweetness that it is very difficult to find elsewhere.  Growing them at home is so gratifying, since you get to watch them germinate from the seed and then expand into mountains of foliage and those red jewels.  Or striped yellow and green or purple or pink or orange or yellow… Heirloom tomatoes are so beautiful.  Even at the farmers market they are amazing, and there are a few favorite things I like to do with those unique summer tomatoes.
One of those things that comes first to my mind is always Panzanella… Which is an Italian bread salad characterized by tomatoes and lots of fresh garden type items.  I've actually spent a significant amount of time in Italy and every Italian mother (or father) seems to make their own version of this salad, leading me to believe you pretty much throw in there whatever you like.  This version happens to be my favorite.
Another favorite use for garden tomatoes in the summer (which is not to be underestimated) is oven-roasted tomato sauce. When you have pounds and pounds and pounds of fresh tomatoes it's nice to be able to preserve that glorious summer flavor in the freezer for a midwinter treat. To me, both of these recipes simply taste like a glorious summer day.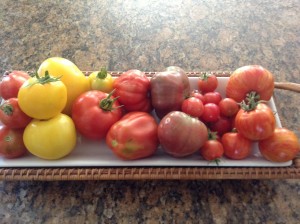 Panzanella
The main keys to this salad being incredible are the freshness of the ingredients… especially the tomatoes, and the quality of the bread.  It really only works in the summer, when tomatoes are gorgeous red and sweet and delicious.  My preferred bread:  Sarcone's bread from South Philadelphia / Italian market area, but in Los Angeles, I go with what looks good at the grocery.
~10 pounds of GREAT Summer tomatoes; if they are not great don't make this salad.  Feel free to use a variety of different tomatoes here, or all the same kind.
¾ cup olive oil
¼ cup red wine vinegar
1 loaf crusty Italian bread, like a Tuscan boule or a ciabatta.  MAKE SURE you do not get sourdough.. it will severely impact the flavor of this salad, and I personally think it destroys the freshness of it!
1-2 stalks celery (or 3-4 small ones), chopped
1 bell pepper, chopped
1 red onion, chopped, and then let sit in a bowl of water for about 10-15 minutes, then drain and discard the water. I usually chop the onion first, and then while I chop the tomatoes let the onion soak in the water. The soaking takes out the sharpness of raw onion.
Fresh basil, chopped
Fresh oregano, chopped
Salt and pepper to taste
Other fun, optional add-ins:  pitted chopped olives of any kind, chopped cucumbers, chopped scallions and / or chives, really good canned tuna or salmon in olive oil, rinsed and drained canned cannellini beans, sundried tomatoes, pumpkin seeds, or whatever else you can dream up!
Cut bread into ½-inch to 1-inch cubes and spread them on a cookie sheet to lightly toast in a 350 F oven for 5-10 minutes, turning once, until they are slightly crisp on the outside but still soft and pliable.  Once lightly toasted, put all the bread in a big bowl.  Chop tomatoes and put them and all of their juice on top of the bread.  Tomatoes go first so that their juice is the first thing to soak into the bread.  Add olive oil and vinegar and toss.  The order here is important, as you want the bread to absorb the flavor in the juice from the tomatoes first, then the oil, then the vinegar.  Chop the celery, bell pepper, onion, basil and oregano and add the salad.  Toss, season with salt and pepper, and serve within a few hours.  Serves a lot.
Oven Roasted Tomato Sauce for Pasta
Makes about 8-10 cups of sauce, but don't be surprised if it does not last long
14-16 cups garden tomatoes, any variety
1 to 1 ½ cups olive oil
1 head of garlic, cloves peeled
1 garden chili (I typically use a jalapeno, Fresno or Anaheim chili.. most of the heat will mellow considerably during cooking time)
1 dried Ancho chili (which will impart a lovely smokiness and depth of flavor… I do NOT recommend a Chipotle, which could mar or overpower the beautiful flavor of the tomatoes)
Salt and Pepper
1 bunch of fresh basil
1 cup of oven dried tomatoes, chopped (sprinkle another sheet pan of halved tomatoes lightly with olive oil, salt and sugar and cook at 275 for 4-6 hours until a little shriveled looking and caramelized on the edges.  Can store in the fridge for a week in a little olive oil, and makes a great add-in to sandwiches, cold pasta salad, or hot pasta dinners)
Halve or quarter all the fresh tomatoes and spread in one layer on a sheet pan (or 2).  Drizzle with the olive oil, season with salt and pepper, sprinkle with the garlic cloves and add the garden chili and dried Ancho chili.  Cook at 300 F for 3 hours.  Add the basil to the pan(s), and cook another 30-60 minutes until the tomatoes look a little caramelized at the edges.  The garlic should practically dissolve.  If the stem from the Ancho chili is still hard, cut it off and discard it.
Pour all contents of the sheet pans and the oven dried tomatoes along with 2 cups of water into a sauce pan, bring to a boil, and then simmer 35-45 minutes.  Use an immersion blender or a regular blender to puree the sauce, and then taste and adjust the seasoning.
You can freeze this sauce and keep it for a few months.  If you want to can it / preserve it in jars in your pantry, you may, BUT you MUST use a pressure canner, NOT a hot water bath canner, to do so.  Pressure canners process your canned items for a longer time at a much higher temperature in order to ensure safety of the preserved item when it does not have a high enough level of sugar or acid (vinegar, lemon juice) to discourage bacteria growth. Many jams, jellies, pickles and mustard can be canned in hot water bath because they have those ingredients in the right proportion to can them safely.