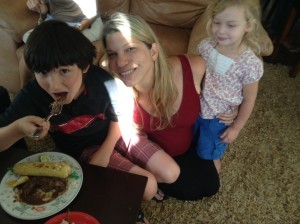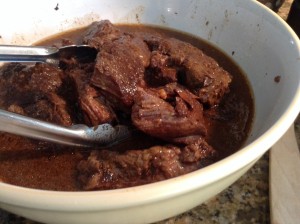 I want to share that I am not a professional chef, gardener, or homesteader in any way.  I'm not even a professional mom, although I have two beautiful daughters, another on the way AND a gorgeous step daughter as well.  For those that may not know, I am one of those corporate people with an 8am-5pm (or so) job (currently as a business process expert in Finance, HR and Change / productivity programs) in a Fortune 50 company where I have happily worked for over 20 years.  Steven, my husband,  is a rockin' stay at home Dad and I am a working mom who happens to be, literally, an "Urban Dreamer".  I love being a mom and cooking and gardening and raising our chickens, etc. when I am not working, but there is very little I would change about our lifestyle.
I tell you this because I sincerely want you to feel that regardless of your path, I share my thoughts because my hope is that these approaches to living are truly accessible, even for those who don't have the ability to stay at home and cook and garden all day. This way of life that we, as a family, have embraced gives us happiness, security and peace.
Having said that, and changing direction entirely, I think beef short ribs are one of the perfect foods to cook in a slow cooker.  And my husband Steven loves them so much, that for him they would be a reason to purchase a slow cooker alone. I personally find this recipe delicious, and I admit that of anything I make, this is the most requested dinner item from all friends and family combined… including Steven.
I discovered short ribs long after they became fashionable and wish I had known about them sooner.  Apparently they were a much cheaper cut of beef before they were cool. But alas, I was part of the flourish of followers that figured it out when their price caught up to their deliciousness and popularity.
My husband should probably be writing this particular entry because he is kind of a short ribs addict… The way I make them anyway.   I combined the idea of an Asian inspired theme (the soy sauce, ginger, scallions) with some other elements that are decidedly more European (garlic, Dijon mustard) and American (ketchup! And brown sugar) for a version of short ribs that cooks all day, smells tangy and amazing and tastes even better (they are not too sweet).
When I make this, I generally make a full 4-pound pack from the store for my family, counting on leftovers, but we always have less leftover that I plan for because we find them so yummy. Even my young children love them, and they are meltingly tender and therefore easy to chew and don't require a knife.  Speaking of any person who works away from home during the day or who simply doesn't have a lot of time to cook – you can literally pop this in the slow cooker in the morning while you are having your coffee and come home from work to a house smelling like wonderful delicious-ness.  We like this over any kind of pasta – fresh, dried or homemade, rice, dumplings, spaetzle, or spaghetti squash. Please enjoy these lovely short ribs, that are a little sweet, a little spicy (but not so spicy that my 3 and 1-year old children still don't clean their plates) and have a depth of flavor and fall-apart meat that comes from cooking something for a very long time.
Short Ribs in the Slow Cooker
4 pounds of boneless beef short ribs
1 cup soy sauce
1/3 cup of brown sugar or honey
¼ cup cider vinegar
2 cloves garlic, peeled and crushed
1 Tbsp. grated fresh ginger
½ tsp. crushed red pepper
1 tsp. Tabasco
2-3 Tbsp. Dijon mustard
1/3 cup ketchup
2 tsp. dried minced onion
2 tsp. dried oregano
½ tsp celery salt
–
2 Tbsp. cornstarch
2 tsp. sesame oil
3-4 scallions, thinly sliced (optional)
Mix all ingredients except the meat, cornstarch, sesame oil and scallions in a large measuring cup with a whisk. Put the meat in the slow cooker and pour the sauce over it. Cook on low for about 9-10 hours.  I usually check partway through the cooking time to reposition the meat and make sure it all gets some time under the sauce.  Remove the meat from the slow cooker into a big bowl or onto a plate. It should kind of fall apart it is so tender.  Let the sauce settle for a few minutes and then spoon the visible fat off the top. Whisk in the cornstarch, scallions and sesame oil and put some of the sauce over the meat.  You can serve more in the side in a gravy boat or something.   Serve (with pasta, rice, or something else of your choice) and enjoy!
I also really enjoy carrots and red onion with this.. I cut about a pound of carrots into 1 inch long pieces and chop a large red onion and put them in with the meat at the beginning of the cooking time.  It adds a little interest and vegetables to your end result.