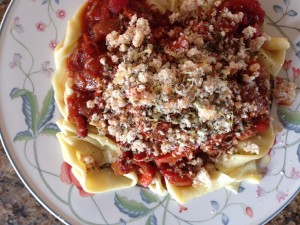 One thing you MAY notice as you read my posts, is a general positive and warm leaning towards Italy and things Italian.  YES.  It's true, I am an Italophile, BIG TIME.  I love the country, people, lifestyle, food, weather, culture… a  lot of things about it.  I have a multitude of happy memories from my visits to Italy, especially Florence, whether for a college trip or in later years, business trips.  I even had an Italian boyfriend or two, years ago (don't worry, my American husband already knows).  For a time, my dog Caffrey, who is no longer with us (he had 13 happy years), answered to all Italian commands:  "Siedi!" (sit), and "Vieni" or "vieni qui" (come).
All of this explanation is to say that there will undoubtedly be an Italian skew to the volume of recipes posted on Urban Dreamer.  Duck Ragu is one of those recipes.
Duck is actually not particularly prolific in the grocery stores in Los Angeles.  I have spent many years living in the Midwest-ish part of the country (Cleveland) and also in the Northeast (Upstate NY, NJ, CT) and I can tell you it is a LOT easier to find duck in the grocery there and there is a lot less judgment affiliated with purchasing it as well ("awwww, you are cooking a cute sweet little duck?  :(" – THIS from the cashier at the market.  Really?).   I happen to love duck and enjoy it prepared lots of different ways.  In LA, I typically order it from the butcher at the grocery store and need to wait for it to arrive, or buy it from a commercial restaurant distributor in East LA… by the case (by the way, I get my cases of ducks, which is 6 frozen ducks, from Glen Rose meats, if you are interested).  An Italian 'ragu' is a rich and satisfying tomato sauce that typically cooks for a long time on the stove and most old (and younger) Italian ladies I know serve it over fresh pasta… on a Sunday… with bottles of red wine.  It's one of those lovely things that take a few lazy hours in the vicinity of the kitchen to concoct, making it perfect for Sundays at home.
Duck Ragu
1 duck
2 Tbsp  olive oil
1/3 pound sliced bacon, chopped.  (if you want to use turkey bacon, add another tablespoon of olive oil)
1 Tbsp Salt
½ tsp black pepper
1 medium to large yellow onion, chopped
4 medium carrots, trimmed and chopped
3-4 leeks, cleaned very well and chopped
6 cloves of garlic, peeled and crushed
2 large sprigs of Rosemary, leaves finely minced and stems discarded
A pinch of crushed red pepper
2 28-ounce cans whole peeled (San Marzano if you can get them) tomatoes
1 ½ cups red wine that you would drink
2 cups of water
½ cup tomato paste
1 pound of any pasta.. I like fresh pasta in a wider noodle best with this (like papperdelle, maltagliati or fettucine)
Gremolata topping:  Mix ¾ cup toasted bread crumbs, zest of 2 lemons, 1 tsp kosher salt and 2/3 cup grated parmesan cheese together.  Serve with the pasta and sauce.  This topping should be kept separate until serving the dish, as it's best when it's a little crispy.
Preheat oven to 350.  Make sure your duck is thawed in the fridge before you start.  They are most prevalent in the freezer section of the grocery store, and like those bog frozen turkeys at thanksgiving, they need a day or more in the refrigerator to thaw.  Trim the extra neck skin off the duck and remove the giblets if there are any.  I save these items along with the duck carcass in a zipper bag in the freezer, and use several bags to make stock (usually some sort of chicken-duck stock).  Rub the entire duck with about a tablespoon of the olive oil and then generously salt and pepper the whole thing, inside and out.  Roast it in a roasting pan with a wire rack in it (spray with cooking spray to help avoid sticking during the cooking process) for a total of 2 ½ hours, flipping it over from its back to the breast every 30 minutes.  Start and end with the breast up.
When it is done cooking, there will be some GLORIOUS duck fat in the bottom of the roasting dish.
Duck fat happens to be EXPENSIVE and an amazing tool for making things like oven baked French fries, roasted sweet potatoes or duck or vegetable confit.  I recommend straining it and saving it in a jar in the refrigerator for a future use.
While the duck cooks, heat the remaining tablespoon of olive oil in a large Dutch oven  on medium high heat and add the bacon.  Cook until it is a little crispy, and then add the onions, carrots, leeks, garlic, rosemary and crushed red pepper (feel free to add up to half a teaspoon for a little more bite). Turn the stove to low and cook, stirring occasionally, until the vegetables are soft.  This takes 15-20 minutes.  Add the canned tomatoes and their juice.  Pour the wine and water in the empty tomato cans and pour back and forth to get all the tomato goodness out and pour that into the pot too.  Add 1 tablespoon salt and ½ teaspoon pepper and bring to a boil over medium high heat, then immediately turn to low and let simmer for an hour. Stir it occasionally while it is cooking, and you can break up the whole tomatoes as it cooks with a wooden spoon or a potato masher.
When the duck is cool enough to handle, remove and chop the meat .  The skin and carcass can be discarded or set aside with the giblets to make stock another time.  If you do keep the carcass and skin and giblets, I find it best to store them in a zipper bag in the freezer. Mix the duck meat into the ragu with the tomato paste and cook on low heat for 1 ½ hours (or up to 3), and add a little more water if it gets too thick.  Check it for seasoning, and add more salt and pepper if needed.
Serve over cooked pasta with a sprinkling of gremolata topping. Enjoy!