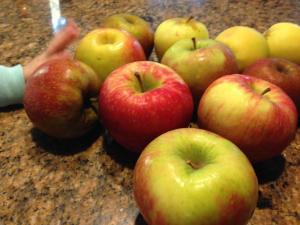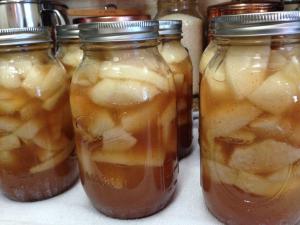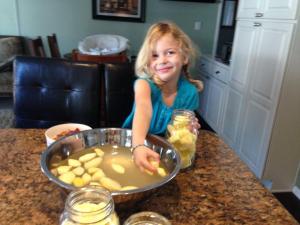 November continues with more ideas for things that you make for people as gifts… So how great would it be to able to open up a glorious jar of homemade apple pie filling? This version I developed is actually made without any white sugar. The sweeteners are apple cider and agave syrup which make it appealing for those trying to avoid processed sugar.
This is the season where apple orchards and apple picking are just coming to a close and as such, is a great time to pick up a couple of big bags of apples or even a bushel.  This is not only a great way to preserve delicious in-season apples, it is also a multi-use pantry item.
Let me explain.
Apple pie
Apple pie with cheddar cheese
Lattice top apple pie with crystallized ginger.
Vanilla ice cream topped with warm apple pie filling and salted caramel
Apple strudel… Combine the apple pie syrup with applesauce, spread it on an unbaked pizza crust and top with the apple pie sliced apples before baking
And heck you can just eat it out of the jar!
Warm apple pie just smells like a cozy winter day wrapped in a blanket of snow. Enjoy.
Apple Pie in a Jar
About 7 pounds of crisp apples and not-too-sweet apples, a variety is best, peeled cored and sliced.  To make 6 quarts.. Adjust you amount as needed to fill 6 quart jars.
6 cups apple cider
4 cups water
1/3 cup lemon juice
1 cup agave syrup
3/4 cup corn starch or clearjel (TM)
1tsp cinnamon
A few grates of fresh nutmeg
1 tsp salt
The apples: As you are peeling, coring, and slicing, it might be a good idea to keep the apples in a big bowl of water with some fruit fresh or lemon juice or other non browning agent.  Put the raw apples in the jars, leaving about an inch of head space in the jar.  This pie filling actually expands while being preserved in the canner so make sure you leave the space.
The syrup: Put all the remaining ingredients in a pot, and cook at medium high to medium heat, stirring constantly with a regular or silicone whisk.  Make sure you get any lumps put created by the cornstarch or clearjel. I find the silicone whisk makes an easier task of this. Continue to cook until boiling and thickened slightly.  Taste it.  Adjust seasonings as desired. You could even add something a little fun like ground ginger or vanilla extract at this point.
Pour the hot syrup into the jars over the apples and fill up leaving and inch of headspace in the jar. Top with your sterilized lids and rings.  Can in a hot water bath for 25 minutes.  When the processing time is done, turn off the burner, but don't open the pot.  Leave the jars in there until they are completely cool.  I don't recommend this with every canning recipe but it is really important with this one.  Store the un-sealed jars in the refrigerator and use within a week.
Decorate and gift (or give them to yourself on a pie day) the sealed jars as desired!