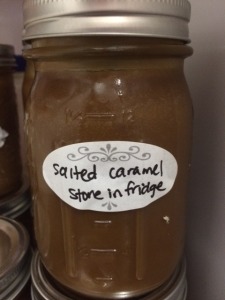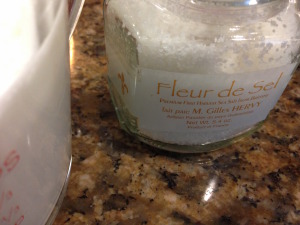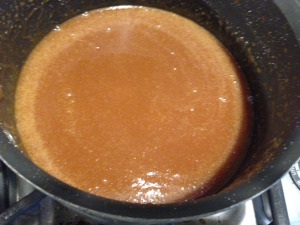 November is turning out to be the month where I talk about things that you make for people as gifts… Probably because that's what I've been working on myself. So this next thing, Salted Caramel, is one of my favorites.
As ice cream toppings go, caramel has always been a love of mine, followed very closely by hot fudge.  It takes a few bounds forward, however, when it becomes SALTED caramel.  What do I say about this except that it is ALWAYS in my fridge.
Put it on ice cream.  Maybe throw it on cheesecake.  Drizzle on custard.  Bread pudding.  Manchego cheese (gasp) with a handful of grapes.  Turn vanilla ice cream into a caramel apple sundae with slices of fresh apple and chopped peanuts.  Put a layer of it as the base on a chocolate ganache tart.  Now your tart tastes like a salted caramel chocolate truffle… OMG.
Like I said.. always in my fridge.  It's a fabulous gift – but please label appropriately with something like – "Store in Refrigerator".  and do, please, store it in the refrigerator!
Enjoy!!  So good!
Salted Caramel
Makes about a pint, with a little left over for an ice cream sundae
1 1/2 cups sugar
1/2 cup water
1 1/4 cups heavy cream
1 tsp. salt (fleur de sel, if you can get it)
1 tsp. vanilla
Put the sugar and water in a saucepan, a pretty large one (one that is larger than you think you need – when you add the cream later it sputters and steams and boils vociferously while expanding exponentially and it is dangerous to risk it boiling over) and heat at medium heat WITHOUT STIRRING.
Swirl the pan a bit so the sugar dissolves and watch it pretty closely over the 15-30 minutes it takes for your sugar water to turn to syrup and then darken to caramel.
Meanwhile, add your salt to the cream in a measuring cup and warm it (in the microwave if you like).  Stir gently to dissolve the salt and then add the vanilla.  Set aside.
Once the sugar-water mixture is caramel color (watch closely… when it turns from yellow to amber it can go to blackened in an instant and you would have to start over at that point), turn off the heat. It will smell amazing.  And it will be SUPER HOT.. do not taste at this point.  It's way too hot.
With the caramel off the heat, pour in the cream mixture and immediately STAND BACK.  Count to 20 before you approach the pot again… it may keep spewing burning steam and expanding a few seconds longer than you expect.
When it is done with its show, put the pot back on the burner, turn it on low, and stir gently (i use a silicone whisk) until smooth and slightly simmering.  Turn off the heat.
Let it cool enough so you can taste it.  Taste it and adjust with salt and vanilla to your preference.
Pour into a jar (it should make about a pint) and let it cool to room temperature.  The cover, and put in the refrigerator.
You can re-warm it multiple times.  It will keep in the refrigerator for many months.