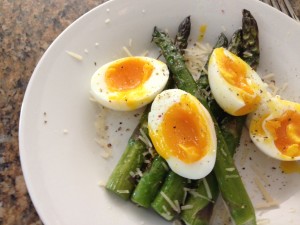 So it turns out you can actually grow your own asparagus. Who knew? I'm no stranger to having a vegetable garden, mind you. But asparagus has always seemed a little extra intimidating.  As with anything, it takes time.  A productive asparagus bed must be mature… Like a few years old… And then it should produce for 20 years or something crazy like that. Since my asparagus bed is only about a year and a half old now, I get about 5 asparagus spears at a time, which is not completely dissimilar to the general yield from my fig tree (see my post on fig jam).
My whole family loves asparagus, including my very young daughters, so I still buy it at the store, usually about 2 pounds at a time. I like it grilled on the barbecue or roasted in the oven the best, with a little olive oil, salt and pepper.  We love it with just about any dinner… Chicken, steak, lamb, spaghetti and meatballs, tomato soup and grilled cheese, you name it.  But I must say there is something amazing about the pairing of cooked asparagus and eggs.  Have you seen this too?… on countless little French bistro menus? Roasted asparagus and scrambled eggs, roasted asparagus and hollandaise sauce, roasted asparagus and soft cooked eggs (this is my bell ringer) and if you are feeling extra fancy, with a drop of (gasp) truffle oil.
So here is my take on roasted asparagus and soft cooked eggs… This is definitely one of my favorite lunches, topped with a little shaved pecorino cheese, and if I have it, with a little pile of sliced prosciutto or Serrano ham.
Roasted asparagus with soft cooked eggs
Serves 3-6
2 pounds asparagus, rinsed and woody stems broken off the bottom
Olive Oil
Salt and pepper
6 eggs, cold
Freshly grated parmigiano or pecorino cheese
Place asparagus on a large cookie sheet, so that it is approximately 1 layer thick.  Drizzle with olive oil and then sprinkle with salt and pepper.  Cook in top third of the oven at 400 degrees for 5-15 minutes, depending on the thickness of your asparagus. It should still be slightly firm and the ends should have little bit of toasty looking edges. Remove from oven and let cool slightly.
Meanwhile, heat about a ½ inch of water to boiling in a saucepan with a lid. Place the cold eggs in the pan and cook (it steams them) for 6 ½ minutes.  Rinse with cold water for one minute, and then peel the eggs.
Serve immediately by placing a few asparagus spears on each plate, an egg or 2 cut in half on top and then season the whole thing with salt, freshly ground pepper, and freshly grated cheese (parm or pecorino) to taste.  Enjoy immediately!