I just think cocktail parties are so much fun… People milling
around and chatting, nice music playing, some lovely cocktails abound and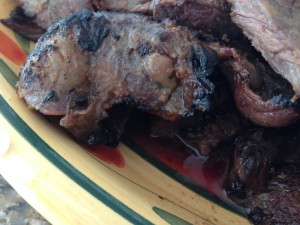 there are some wonderful nibbles to graze on.  When I go to someone else's party it's different…. I love the party experience but I never know as many people so there is an added responsibility to try a start conversations with and meet some new folks, which can be slightly anxiety – inducing (at least for me).  Hosting a party, on the other hand, is awesome.  I clean a little, make a signature cocktail and put out some beer and wine, make a couple of yummy appetizers and pick a few good CDs or playlists.  Voila- I get to relax and spend time with a bunch of people I really like (of course I do, why else would I invite them) and fun is at a high, anxiety at a low.
Below are a couple of my favorite stand-by's for cocktail parties, small portions of meat and chips and dip are very nice complements to a veggie tray, some cheese and crackers and maybe some hummus or something, all of which you can buy if you want (or have guests who offer, bring) to throw something together quickly.  I typically throw the meat in the marinade in a zipper bag the day before so that on the day of the party I can throw it on the grill (or in the oven on broil) for a few minutes when I want to serve it.  The onion dip is so delicious with good potato chips and only takes a few minutes to prepare, but it should probably chill in the fridge for an hour before people arrive (you could do this the day before too though).   I should also mention that the skirt steak is a frequent visitor to my dinner table as well… it is a quick and easy item for a nice family meal anytime, add salad and a vegetable and dinner is on the table. Even my young children like it (ages 3 and 1 ½ ). Happy hosting!
Skirt Steak
1 1/2 – 3 pounds skirt steak, depending on how much you want to make
3 Tbsp. soy sauce
1 Tbsp. brown sugar
1 tsp. salt
1/2 tsp. black pepper
1/2 tsp. dried oregano
1/2 tsp garlic powder or 1 garlic clove crushed
1/4 cup canola oil, vegetable oil or grapeseed oil
Combine all ingredients except the meat and shake in a jar (I use an old clean glass mustard jar). Pour the marinade over the meat in a zipper bag, and refrigerate at least 30 minutes and up to a day and a half. Grill on medium hot grill for 2-4 minutes per side (depending on the thickness of the meat and your grill). Let the meat rest, covered, on a plate for about 10 minutes before cutting and serving to allow the juices to redistribute.  Enjoy!
Onion Dip
1 16 ounce container of sour cream
1 medium yellow onion
1 Tbsp. grapeseed, canola, or vegetable oil
2 tsp. salt
1/4 tsp. sugar
1/2 tsp. black pepper
Chop onion and cook over medium heat in oil with 1 tsp. of the salt and the sugar.  Keep cooking, stirring occasionally, until the onion caramelizes, which may take 20-40 minutes.  Once golden brown, let the onions cool (sometimes I want to rush this, but try to avoid that urge) and then stir into the sour cream in a bowl, and chill covered for at least 30 minutes.  Stir and season with salt and pepper to taste.  Serve with chips or veggies.