I'm hot, pregnant, and I don't feel like cooking.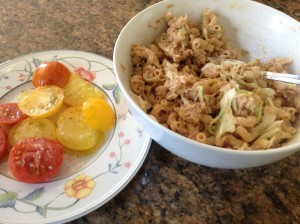 When I say that I am pregnant, I am really pregnant… Like the doctor says any day now we could have the big event.  Having a baby is emotional anyway, and for me, it not only recalls the joyful and amazing births of my 2 other daughters, but other things as well.  It is an interesting time, this moment of anticipation, full of tension, anxiety, awe, hope, joy and fear (you better believe I think hormones have something to do with this heightened state of emotions).
With a new life coming and joining the family, it's hard not to remember other big moments… And they are grouped together and entangled in my brain – birth and death, gain and loss.
I find myself thinking of my companion of 13 years, my beloved dog Caffrey, who passed away just 3 short months ago.  In the evenings I want to scratch his ears and rub his belly and miss him terribly.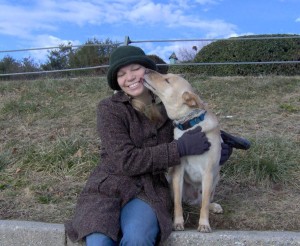 I want to be able to talk to my grandmothers, who have been gone many years, about raising children and how they made bread and butter pickles.
As uncomfortable as one can be at 9-ish months pregnant, I find it hard to complain, as we feel so lucky to be having a new little girl joining the family. I share this all not to try to bore you with my waxing poetic, but more to highlight that sometimes life throws a curve ball.  Sometimes,  I just need to think and be and  to not really worry about cooking a darn dinner.
So this was my state of mind as I embarked on the episode of hunger and heat and uncomfortable-ness, as well as emotional highs and lows, at dinner-time… Which I guess was a revelation because it resulted in an amazing pasta and tuna salad dinner with an Asian flair.  I hardly heated up my kitchen and my husband and I had a lovely dinner after the kids went to bed… So of course, I could not wait to share it with you.
This is canned tuna fish-tuna salad. If you can get your head around that, then you might be open to the idea that it is actually a little bit different. It is crispy with cabbage, creamy with mayonnaise and sesame oil and soy sauce, and flavorful with canned tuna in olive oil and sweet pickles or salty capers.
I hope you enjoy it yourself on a night that you don't feel like cooking. It's summery and it's actually quite delicious with some fresh sliced tomato!
Hot summer night tuna salad
Serves 2, probably
One can tuna fish packed in olive oil, drained
2 tablespoons your favorite relish or chopped capers
2/3 cup shredded cabbage
3 ounces pasta your choice of shape, cooked, drained, and still warm
1/4 cup mayonnaise
1 tablespoon soy sauce (or 2 teaspoons if you use capers or if want yours less salty)
1 teaspoon sesame oil
Cook and drain the pasta.  Meanwhile, mix all other ingredients gently so as not to break of the tuna too much.  Stir in the warm pasta, taste for seasoning, adjust as needed and enjoy.  Don't let this sit too long,  as it is warm and has mayonnaise so it should be enjoyed right away or stored away in the refrigerator to eat later (it's good cold too).