http://theftzapperfence.com/?makisf=dating-place-in-lucena&424=65 I remember the first time I saw green tea ice cream.  It didn't even cross my mind that it wasn't pistachio.  But when I tasted it, I was certain it was not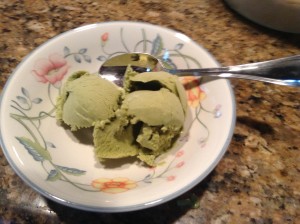 soltero y sin hijos a los 40 pistachio.  It's interesting to me that this is an ice cream that is not that sweet, which I think makes it appealing.  And it's also interesting that it requires a very unique Japanese ingredient… Matcha green tea powder, but green tea ice cream is not very prevalent in Japan. Well… at least when I lived in Tokyo in late 90s it was not something I saw very frequently there.  I think now it's kind of a thing here… Maybe it is there too.
http://irinakirilenko.com/?deribaska=24option-erfahrungsbericht&2a7=d9 But if you haven't tried it, you should.
follow It's wonderful.
meilleur site de rencontre jeune gratuit It's different and creamy and lovely. And it's actually not that hard to make as long as you can get Matcha green tea powder. It's the stuff they use in Japan for formal tea ceremonies, and it happens to be available in Asian markets and luckily on Amazon.com (this is what I use – here).
go to site Because it's green, my daughters put it in the same food category as Dr. Seuss's Green Eggs and Ham.  'You don't like it, so you say, but try it try it and you may. Try it, and you may I say!'
100 free dating site in switzerland
donde ir a conocer gente en barcelona http://mariondentalgroup.com/?myur=prix-site-de-rencontre-elite&4ff=e0 Green tea ice cream
go here 2 cups whole milk
site de rencontre camerounais en ligne 1 ¼ cups cream
see 2 Tbsp. Matcha green tea powder
5 eggs yolks
buy allegra in uk ¾ cup sugar
1 ½ Tbsp. cornstarch
1 tsp. vanilla
Combine milk, cream, and green tea in a microwave safe bowl and heat in microwave for 3-4 minutes until hot and steaming.  Whisk until smooth and let steep on the counter for 30 minutes.
Whisk egg yolks with sugar and cornstarch in a separate bowl, until thick and pale. Temper with hot milk / cream mixture (that means whish in about ¾ cup slowly, so at not to cook the egg yolks into scrambled eggs), then add the egg mixture BACK into the milk / cream mixture, whisking as you go. Return to microwave and cook in 30-60 second increments, whisking each time until it thickens (about 160 degrees).  Do not boil.  Whisk in vanilla.
Cover with plastic and refrigerate 8 hours or overnight.  Process in ice cream maker about 40-60 minutes and then freeze until hard.
This post contains affiliate links, which means if you use my link to make a purchase I'll make a few bucks (or cents) and have some extra money for seeds, dirt, chicken feed, sugar or website maintenance!